Posted by: Lois Manno on Jun 28, 2011

The 2012 Scovie Awards Competition is accepting entries.  Now in its 16th year, the Scovie Awards is the world's largest professional competition for fiery foods and BBQ products.
Produced by Dave DeWitt's Sunbelt Shows—producers of the National Fiery Foods & BBQ Show—the Scovies give manufacturers the chance to see how their products stand up to the competition. A Scovie win gives a company the opportunity to promote their product as a top performer, and catches the attention of store buyers who are planning their inventory orders.
Scovie winners benefit from extensive exposure on Sunbelt's multiple websites and blogs, and receive banners they can use to promote their winning products at food shows. Whether you have a new company just putting your first product on the market, or you are an established company with a new product line, the Scovie Awards competition is the place to prove that your product is the best!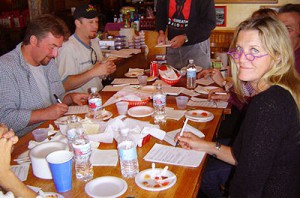 As an additional benefit of entering the Scovie Awards competition, companies can request an Analysis Report of their entries. The report will include a breakdown of the judging sheets, including high and low scores, average scores by judging criteria, full comments and a professional review of the product's packaging.
Read more about the Scovie Awards and enter your products for the 2012 competition here.
---